Teamwork, Community behind CSB Digital Learning Success
Several years ago, the Cree School Board began planning to improve digital literacy and learning technologies in concert with Quebec's Digital Action Plan for Education. Student laptops, accounts, and an eventual department for e-learning was a long-term vision for the CSB. However, COVID-19 school closures changed what was once a gradual, decade-long strategy into a sprint to digital readiness.
"Thankfully, we had the plans and funding in place to take immediate action in the area of digital learning," said Kimberly Quinn, Director of School Operations.
"But, really, it was a team and community that made this happen."
The results of the CSB's digital learning efforts are significant: by the end of March, all Secondary students at the CSB will have a loaned laptop, mouse, headset, memory stick, and laptop bag to take home. Online learning accounts have also been set up for all students through Microsoft TEAMs, and a new Department of Digital Learning is being established at the CSB.
Under normal circumstances, this type of digital transformation would take several years. But, by working together and staying focused, the CSB made it happen in a matter of months.
Building digital learning capacity goes beyond buying laptops
For an individual, buying a laptop may be a fairly quick process. For a school board looking to transform their digital learning capacity, there is much more to consider: training teachers, setting up digital learning software, activating accounts, and managing distribution, to name a few.
"It wasn't always easy, but thanks to the training, technology, and teamwork, we have seen such a transformation already. Now, we can say, 'this is more than just an emergency response, this can really help us share cultural lessons and keep Cree language strong.'" Said Sherry Weistche, Coordinator of Instructional Services.
Cynthia House, Director of Education Services, agrees. "I am excited to see how we can combine these tools with all subjects to make CSB lessons more accessible and interactive."
When it came to getting laptops to students, the CSB's IT Department played a strong leadership role, setting up hundreds of devices before shipping them to the communities. Ordering the laptops and other equipment, tracking how many were needed in each community, and packaging them to go out is a massive undertaking requiring the collaboration of IT, administration, school employees, and community members.
Once the laptops arrive in the communities, it is up to the school employees to pack them up and make sure they get into the right hands.
"Our school library looked like a Best Buy for awhile!" said Voyageur Memorial Secondary School principal, Betty-Anne Forward. "But it was amazing to see how happy the students were to receive the laptops.
"We saw so many happy faces, even through the masks. Students were very grateful. One student asked, 'Really? I can take this home? Wow! Thank you so much.'"
Parents, community play a major role in online learning success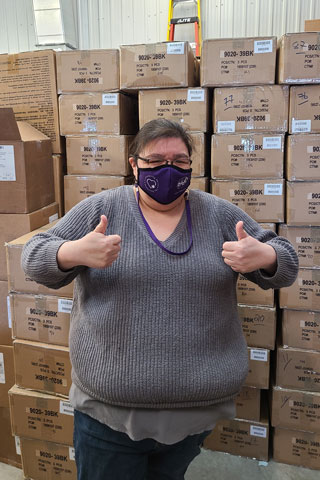 The Cree School Board had originally planned for students to set up their computers and begin using Microsoft TEAMs in class. Unfortunately, COVID-19 had other plans.
With in-class instruction paused across several schools in January and early February, many parents had to help their children set up the new online accounts from home.
"Parents always have a big role to play in anything we do," said Kimberly Quinn, "but with COVID-19, and with students learning from home, this role has become even bigger."
As the CSB works to supply more students with laptops and enhance the use of online technologies, the support of families and communities has made a huge difference. Some community members have even offered to help their school package and distribute laptops to students.
"When I see a student with their laptop, I think about the team that coordinated the purchase, the IT person who set it up, the Education Consultant that created the student accounts, the teacher who is building the materials, the parent that's making sure they care for it…all of these people, all working together, make something like this possible for our students."