SAES
ᔖᐳᐦᑐᐧᐋᓐ ᒋᔐᐄᓅ ᒋᔅᑯᑕᒫᒉᐧᐃᓐ ᐊᑐᔅᒉᐧᐃᓐᐦ
Sabtuan Adult Education Services
Learning is a lifelong journey. At SAES, we honour Cree culture and believe in your dreams, no matter where you have been or where you want to go. 
SAES Calendars
Have you always wanted to go to college but aren't sure you're ready to leave your community for a semester?
You can study in your own community to gain college experience with the Iyeskuwiiu program, attending your courses online and on the land. All at the same time, deepening your Cree identity by taking culturally relevant courses designed by Cree educators, for Cree students!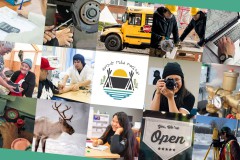 Sabtuan Adult Education Services (SAES), the adult sector of the Cree School Board (CSB), recently shared a list of local and regional programs it plans to offer in the 2022-2023 school year.
A state-of-the-art mechanics' workshop sits on the first floor of the new Mistissini Sabtuan Learning Centre. The bright room features tall ceilings, fully stocked toolboxes, and workstations for students to tinker and learn. Vocational consultants are busy at work, ordering final equipment and putting finishing touches on the space. In an office nearby, a staff member checks the application portal, counting over 50 local applicants eager to take the Auto Mechanics program.